Happy Friday!
Yahoo.... made it through the week back at work.
I was so busy catching up on everything, the week flew by. No complaints.
Actually I have one complaint... my stupid eye... it has been twitching every since Saturday... when I realized I had to come back to work. I think the stress did me in... & now, I guess the stress is sticking with me because my eye has been twitching all week. Feeling gooky too. Probably a bit of stress / allergies / dry eye... a perfect combo of irritating.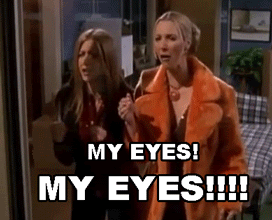 So Day 4 was a good day... probably not my best. I still kept it in check, but I'll explain.
Breakfast 6:15 - usual - egg sandwich. I gotta find a way to not make my eggs stick. I don't know if its my pan or what.
Snack #1 10:30 ... I know this is longer then you're supposed to go. I think on this plan, they want you eating every 2 hours, but really I'm not that hungry until around 10. Well, I'm actually hungry around 9 but I end up getting busy at work & ending up being able to snack around 10-10:30 ....
Anyways - I had apples & PB again.
Lunch 1:30pm - here's where it was weird for me. I had to run to the grocery by my work to get some sparkling seltzer water. My grocery hates me & stopped carrying it I guess. Cant find it anymore. I picked up a tuna packet, had 10 wheat crackers & got a Greek Yogurt with honey. The sugar at the end of my day reflects having this honey. At least it wasn't extreme... but I can see why not meal planning & being prepared causes glitches.
Snack #2 4:45 - Chocolate vegan Shakeology & banana
I have usually been afraid of using protein shakes for 'snacks' & not a meal, but I'm really liking the benefit & finding its not driving my calories crazy overboard.
__________
Did the Pilates Fix for the workout... I was thrilled it wasn't legs. I had been limping all day after Lower Fix the day before. Like seriously was moaning going up & down steps at work. I reached out to a fellow 21DF-er & asked if she was that sore the first time she did the workout - she said she couldn't even DO steps the next day. I felt better knowing that.
The messed up thing... they add in legs in the Pilates workout. I did that crazy laugh/cry thing again ... if my legs don't even up looking like Angelina Jolie at the end of this, I'm going to be mad....
I'll wear this dress every day... even to work
__________
Dinner 7:00 I ended up having tilapia with seasonings on it, with broccoli & brown rice. It was DELISH! Ricky even said that it tasted better then any restaurant he's been at. YES!
1 Green / 1 Blue / 1 Red / 1 Yellow
I had my blue left over (Blue is my favorite) & used it for cheese over my broccoli. It felt like a cheat... but so legit on this plan.
Snack #3 8:00 - Grapes
I still had 4 ... FOUR... greens left, 1 red, left over for the day. I totally could have made a pumpkin desert I found on Instagram... but just left it. It's nice to know I still have the OPTION to eat.
Here' s my nutrition for the day...
OVER in Protein!... what?!?! Never happened before!
Dang you honey yogurt for that sugar!
I'll take it.
I'm going to confess. I think the weekend is going to be the hardest. All the food in the house just waiting to be eaten? I will need to keep myself busy, do something to keep my mind off of it. At least I'm going to be basically out all day on Sunday...
we'll see how it goes.
Happy weekend everyone!!!