I just realized I have an addiction...
No, its not to smoking. Never had a cigarette even close to my mouth.
No, its not drinking. I got slightly buzzy one time when I was in my 20's & that was enough for me to ever drink again. I never have had more then a sip of beer in my life. Disgusting.
& no, its not to anything strange like "My Strange Addiction" on TLC...
Have you seen some of these things???
umm... that's cat fur she's eating...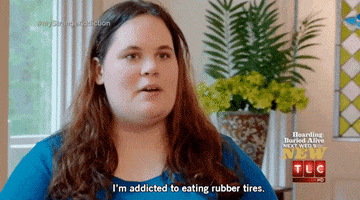 It something that I realized while I'm reading a devotional called "Fit for my King"
I met the author, Sheri Shepherd at a women's conference & she was awesome. I really appreciated her because when we took our picture together, she made sure that the person taking the picture took it from above, not below, which makes a double chin effect. Being a photographer, & her knowing this, I totally gave her props. She is a former Miss America so girlfriend knows her angles.
Today's devotional said these words...
"I am a food addict. The only thing I love doing more than talking is eating. One of my greatest joys in life is food. When I'm celebrating, I eat. When I'm tired, I eat. When I'm sad, I eat. When I'm anxious, I eat. When I'm in pain, I eat. I have spent years running to the refrigerator for refuge. And when I get hungry, my personality actually changes - from Dr. Jekyll to Mr. Hyde!"
I stopped & laughed actually because I had to check the cover & make sure this wasn't my diary. Those words could come out of my mouth. I am the same way.
Every emotion? Food comes to mind.
I totally want food when I'm stressed... when I'm happy... when EVERYTHING...
It was so eye opening to me to realize it was an addiction.
I have family members & friends who I've seen deal with other addictions & being someone who had never had a stronghold on me like they do, I've given advice. How to walk away, how to deal with it...
& now, I need to look in the mirror.
Addiction is addiction, isn't it?
I like she suggests not bringing food into the home that tempts you. That's a good step.
I need to find a way to get my emotional pull over food in check. So when all those feels hit, I want something else besides food.
Addictions are struggles... I'm going to battle my own here...
Anyone else a confessed food addict?