I tried a new work out yesterday...
it was the "Happy Fitness March" challenge... try something new.
Wednesday is usually my yoga day & I thought, I'll try one of those yoga work outs that my friend talks about all the time. That's something new.
First of all -
HOLY YOGA COW
. That sucker was HARD!!!! Its called "Yoga for Weight Loss - 40 minute Fat Burning yoga Workout" by Yoga with Adriene.
It wasn't so much a 'fat burning' as 40 minutes later, my heart rate monitor said I only burned 160 calories... disappointing... but mercy, my body was shaking & doing everything to tell me, "Don't ever do that again"...
which means we'll be doing that again.
It worked more on the core then any other yoga I've ever done... something I need desperately.... & a LOT of planks & holds with the upper body... something else I really need.
Truth be told - I need it all. I find in these things I have zippo, zero, nada strength.
I sent my friend a message that recommended these videos to me & I told her that I now realize my body is made up of nothing but 'blob'... that has to be the case.
how I feel during yoga
Here I am doing the work out... Notice anything?
Yeah... Harvey was laying on me the whole time...
if he wasn't laying ON me, he was doing this...
I know its blurry, but that's what you get when my abs are shaking from slowly dying
I had to laugh because I had to keep getting into downward dog & then I look around my mat & this is what I see...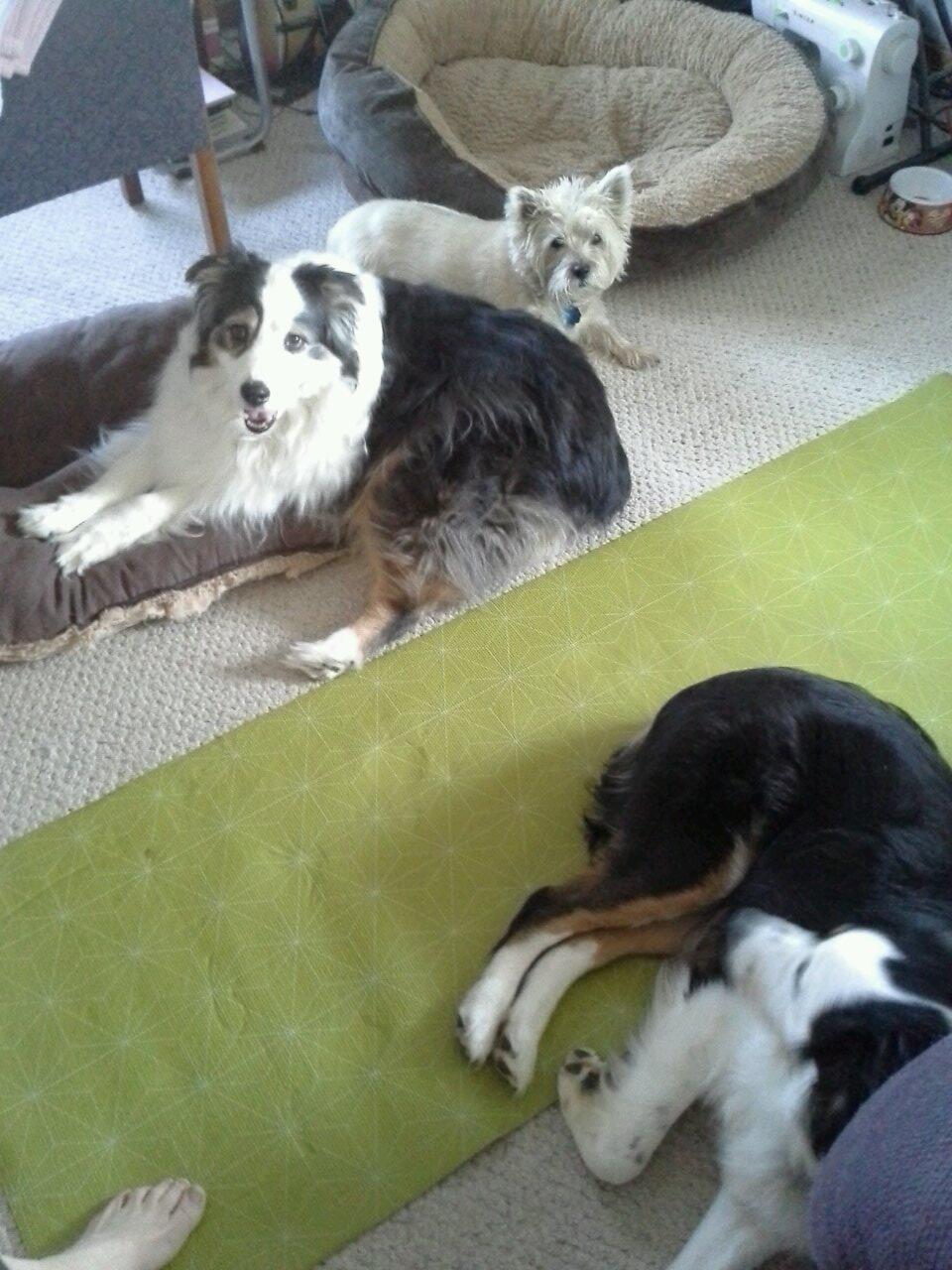 A whole new level of what "Downward Dog" means...
& don't despair ... Zoe was up on the couch watching me too.
I just wonder if my breathing freaked them out... after all, I sounded like Darth Vadar with all the deep breaths I had to take to make it through the work out. My dogs were worried for me.
You really can find anything on the internet
I need to make a work out on how to work out around dogs... it makes it interesting...
My 28th Million Dollar Idea!