So I posted yesterday about how I was waiting by the door for my T25...
The Fed-Ex guy must read my blog because as soon as I got home from work, someone pulled up into my drive way & left a package..
YES.. here it is...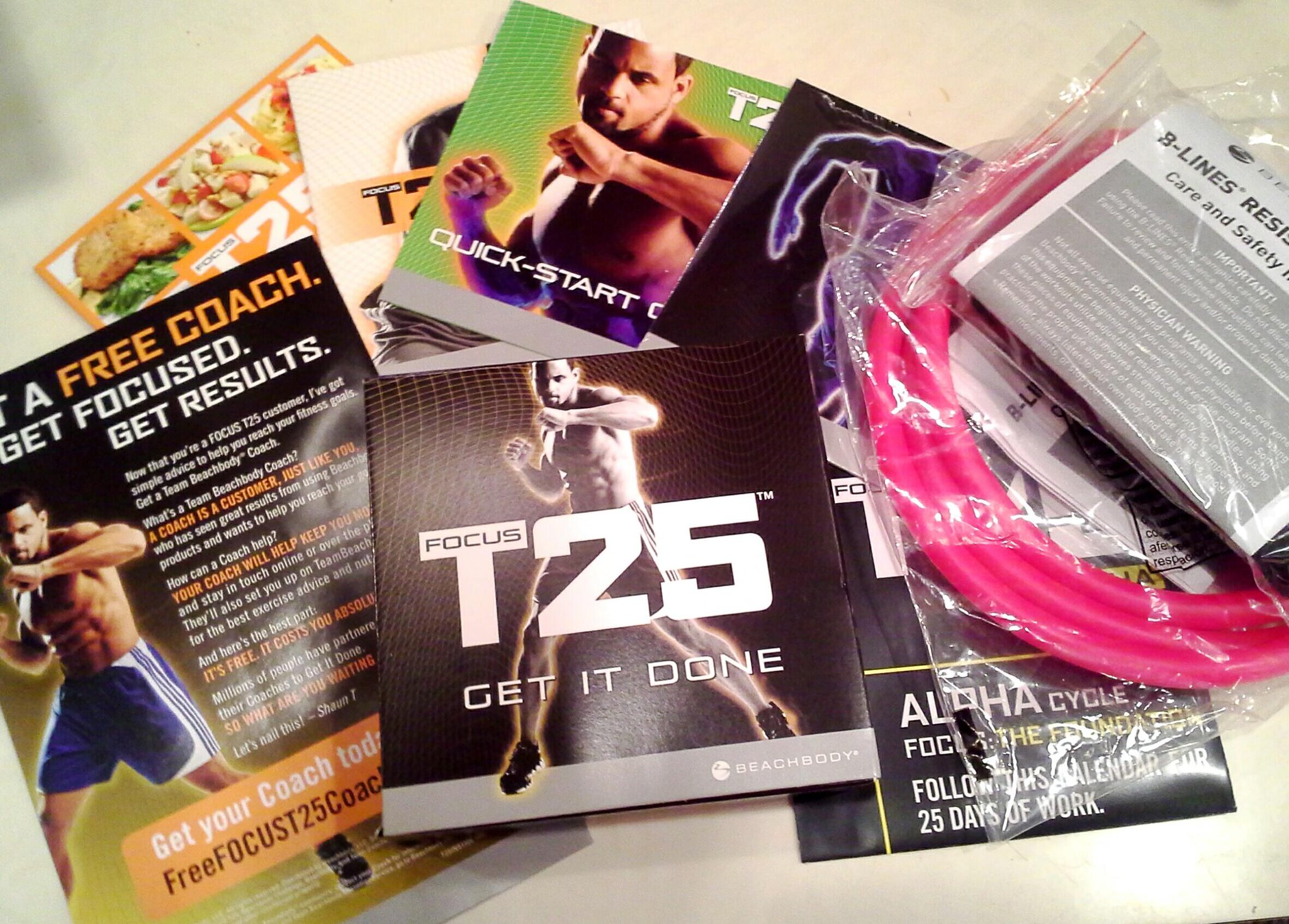 I really was like a kid on Christmas morning. Give me scissors to cut the box & STAND BACK.. mainly because I'm really dangerous with scissors.
I poured into the box. Then said, "Where's the books?"... it was supposed to come with a cookbook with 5 ingredients or less & a chart to keep track of everything... but they were there - just a LOT smaller then I thought. They fit in the DVD box.
So I'm excited... going to start on Monday... because the chart tells me to start on a Monday.
& then I looked at my calendar & my dilemma begins...
I'm registered to run the Kentucky Derby miniMarathon on April 19th... paid in full...
& my training that I follow (Marathon for Mortals) has a 14 week plan... which would start on, you guessed it, Monday...
So what do I do?
The running plan has me running on Monday, Tuesday, Thursday & a long run on Saturday... with cross training on Wednesday & Friday...
So do I put off the T25 until I get through the running training?
Do I forget the race & first try & get fit with this T25, which lasts 10 weeks?
Or do I go REALLY crazy & try to do BOTH?
T25 workout is 6 days a week
I actually thought about this last night... if I do both, I could potentially get up at 5am & do the T25 in the morning before work... which would require some SERIOUS dedication. I'd have to be in bed early, which freaks me out because I do love my night time TV...
Priorities... gotta have 'em...
& I'm not much of a morning workout person...
This would be me in the morning
But then I could dedicate nights for running... & if there is no running scheduled, just relax on those nights since I got my cross training in with the T25 earlier...
I don't know what to do...
Do I really push myself? Maybe cause more injuries with my back & knee? ... or do I push myself & become some sort of She-Beast that is amazing & find strength I never knew I had?
I know this is giving my brain a workout...
I have to Monday to decide....