Sort of a broad topic... so I'm going to go with
5 things I wish I knew about a Race Day
for those of you that are going to have your first.
1. Lay everything out the night before
Most races, no matter how well you know you are prepared, nerves are going to be a factor the morning of the race. If you are anything like me, when nerves kick in, that means brain cells check out. So it's best to really get everything out the night before & double check. That's a great time to make sure everything is ready to go, everything is charged up & even better? If you oversleep, all you gotta do is go to this one area where everything is at &pile it on & jet out the door.
2. Starting drinking water as soon as your eyes open.
I never realized the importance of hydration until I went into my first race, a half marathon, & conked out about mile 9 because I was completely drained. & then genius me drinks a Diet Coke. What was I thinking? I wasn't. I was dumb. I never realized how much water means to a body that is being pushed. I now can feel when my body is dehydrated & in need of water... that's even too late. You should have get that feeling. So drink up. ... & pee a lot.
3. Plan ahead for parking.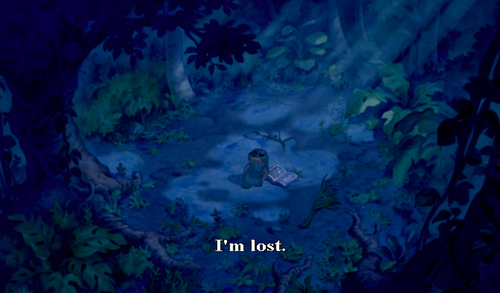 Don't be like Stitch
Most times, you're not familiar with an area. And even if you are familiar with it, streets are usually blocked off & areas are crowded & parking is already taken up. Look at the map of the race ahead of time & look for a good place to park. Somewhere close enough to the start/finish line but far enough away that you aren't stuck not able to get out.
4. Look around.
Be a Meerkat
There's so much going on around you in a race & we get so caught up in ourselves. Which we should. We put a lot of time in training to get to that point. But take the time to look around. See where you are running. It's not every day you get to run in the middle of a busy road in places you'd never run. It's not every day that people are standing on the side of the road with signs for you to read. It's not every day you get to run next to people you would never run with. I know the most experienced runners who are the front of the pack don't have time to talk to others, but I always say that's an advantage of being a back of the pack crew. We get the chance to check on each other, we get to say hi, we get to help each other through. Be bold & ask someone how they are feeling. Ask someone who looks like they are struggling if they are OK. Look around... take it in.
5. The Finish Line.
You only cross your first finish line once. There is something about any finish line that is special, but your first time? It's magical. If you can, have your first race be a good finish line. Where people are cheering & the finish line is BIG... & especially if someone is there to capture you crossing it in pictures! & be prepared for the emotion of it. You may be smiling, you may be crying, you may be DYING... but you will feel amazing about crossing it.
What is one thing about your first race that