I haven't confess anything lately
... time to clear the air...
... we haven't turned on our A/C yet in the house. Working out in the house when its 89 degrees outside? I feel like maybe I could do Hot Yoga. Talk about a sweat-fest.
always gotta love Mama June's wisdom
... I kicked Harvey Dent in the face doing Les Mills this week - he walked right in when I did a back kick & BAM! Right to the nose. He just sat & shook his head & looked at me like, "What did I do wrong?"... poor baby.
... good to know my back kick is effective.
... All my Cadbury Eggs are officially now gone. I don't know how I feel about that. Glad I don't have the temptation anymore... sad that I don't get the creamy goodness until next year.
Farewell my friends
... I cut the back yard for the Hubs yesterday... AFTER I did a workout. Let's just say I think I almost died. I so wish I was joking on this. I got to dizzy & nauseated about half way through the yard but refused to stop. It would be awful to have on my obituary, "Death by Lawn Cutting"
... I tried to find a Les Mills Combat class anywhere around me. Apparently its not a big thing because ... crickets... nothing. I WANT A CLASS! I need people to love kicking & punching as much as I do!!!
... why can't I get out of the grocery without spending at LEAST $100.00? ... for 2 people... & that's usually with me or Ricky having to stop at the grocery during the week to still pick up a few items.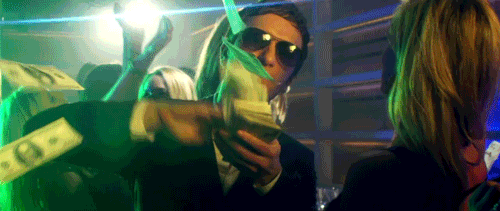 Me in the grocery
... Speaking of which, I don't get why healthier food is so expensive. It's no wonder our country is in an obesity high.
... I've got an eye doctor's appointment tomorrow afternoon. My eyes are getting worse with every passing year. I always heard that your eyes get bad between 40 - 50 year old & then they stop changing until you're in your REAL later years... At the rate my eyes are changing, by the time I'm 50, I'm going to be basically blind.
... I have a love / hate relationship with Mother's Day. Love to celebrate my momma & all the awesome moms out there... hate it for the women who feel "less then" during the day. Society is messed up. You're a man & don't have kids - no problem - no questions asked. You're a woman with no kids & everyone gives you either the "sad pity face" - the "What's wrong with you?" face or the "what kind of woman are you?" face... good times.
... I am trying to do very little today... just counting down till the weekend!!!!
What's on your mind today?