Easter.
The day where candy is abounding.
We went to the store to get some candy for baskets for my nieces & for my nephew.
I got a few bags. With twin girls, you learn to double up on everything so that meant a lot of bags of candy.
Ricky ended up getting a few bags of candy for our nephews basket.
We got home. I make up the baskets.... & then find that we bought WAY too much candy.
See that bowl... & those bags..
yep... all extra stuff
Oh no.
Extra candy around the house. This isn't good.
So before I know it, I'm walking by the kitchen & grabbing something every time I walk through.
What is this sort of magic that FORCES my hand to go to this bowl every time?
It's like there's no control.
It's just one day - right? Easter is for celebrating.
The Risen Jesus would say to go for it on Easter - right?
Let's just say I would probably be happy if I never saw a Reese's egg again.
.... & then Monday came....
& I felt awful all day long.
Couldn't for the world think why I just felt like a slug, slugging away the sluggish day.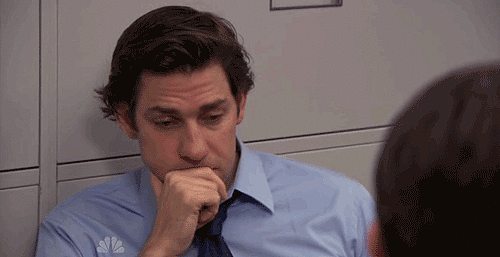 Me all day Monday at work
& then it hit me.
SUGAR!!! That DANG SUGAR!!!!
I swear. I could feel how bad all the sugar made me feel.
Now, I'm no fantastic clean eating person who eats everything non-processed & all veggie & fruits out of the wazzooo. I do good to get 2 servings in a day....
but let me tell you. I was just reminded what sugar does to a body... & I didn't like it one bit.
Talk about a wake up call to eat better.
Get the sugar away from me!!!
... after one more Cadbury egg....
(Kidding... kinda...)