I got a package in the mail the other day...
& I was giddy happy.
I opened it only to hear Ricky say, "What did you get now?"
I wanted to say, "Hey it wasn't a $150.00 video set so lay off buster" ... thanks Beachbody for taking all of my money... but instead, I just smiled & said, just wait...
& then opened up my box to find these...
Doing the P90X3 I can't do the chin up bar.
First, I couldn't do it if I wanted to with my weak arms.
I've always had weak arms... I mean, you'd think they'd look like noodles with the strength I have in them. But instead, they are big flabby arms...
... with a messed up shoulder...
that will never let me do a chin up.
Not unless I let someone cut my bicep tendon... which even then, I don't think will help in doing a chin up.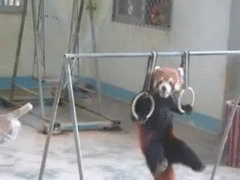 Just because... a red panda with more strength then I have
So I ordered the next best things - these bands that can strap to the door & you can use when they do the pull ups on the video. Someone is modifying using these bands on the video so that helps figuring out what to do.
I have so far been using weights, which seems effective in itself.
I mean, a chin up is lifting your body weight up... so if I have a weight bar with some weight lifting it up, isn't that basically the same?
It makes me sore regardless...
But I'm excited about my latest little gadget.
It also came with a poster the size of my body basically that has a ton of workouts to do with these babies. That's exciting!
It's seriously this big!
It came with handles, with ankle wraps & the door gadget. I'm set to go....
I'm actually excited to use them now in my work out...
& of course, tonight is more of a cardio workout & tomorrow is yoga... so I have to wait until Thursday....
patience... is there a gadget I can buy that helps me with that?
Have you ever used these?
Can you do a pull up/chin up? ... you are my hero if you can