Where we look at how the weekend went
DOWN
// My house without Sydney... be prepared... this is probably going to be the first thing for every UPS & DOWN post for awhile
DOWN
// Hearing my husband cry... I don't think there are many things more painful in my life to hear
UP
// My knit loom keeping me sane.
I need this necklace ... seriously...
UP
// I'm knocking out some beautiful cowls.
DOWN
// I ran out of yarn at the end of one of my projects. The yarn store is forever away so have to wait to get there today to pick up more yarn. So frustrating.
DOWN
// Picking up my baby girl's ashes... I thought I was going to puke walking into the vet's office
DOWN
// I was so upset about having to pick up Sydney's ashes I didn't go to the grocery on the way home.... routine... so my house has no bread & I'm out of Zevia...
DOWN
// the heat is back. We had to close our windows & crank the AC back on. Hello
Summer
Fall
UP //
.... I didn't put up my shorts yet for the year.
UP
// I forced myself to work out on Friday, which is not a day I usually work out on...
DOWN
// I missed my work out on Saturday because I was too busy knitting & went to a baby shower
UP
// I ended up making up that work out on Sunday before church
DOWN
// I was exhausted at church because of the early morning work out
DOWN
// I am NOT a morning work out person. I've decided 100% certainty that I need night time work outs in my life.
This is how I felt at a early morning workout
DOWN
// I ate probably more junk this weekend then I have in months... I gain weight even when I eat healthy. I'm dreading the scale on my weekly weigh in tomorrow. Stress & baby shower food - lots of dips, chips, cheese balls... not to mention the corner piece of the shower cake? yeah... I'm in trouble.
DOWN
// This is why I hate polishing my nails. I did them for the baby shower on Friday & by Saturday afternoon, they were smeared... by Sunday evening, they are already chipped 6 fingers.
DOWN
// My laundry pile is taller then I am... I so wish I were exaggerating
DOWN
// I have sad dogs in my house
DOWN
// I literally didn't clean a thing in my house this weekend. My kitchen? There's supposed to be a counter in there somewhere...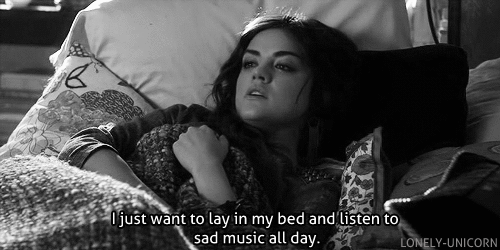 UP
// Once Upon a Time came back on ... & Belle & Rumple danced... under a chandelier ... I swooned.
So yeah... you can tell I'm still sad... everything sucks...