Where we look at how life rolls
I'm back... from vacation... that's an automatic down...
but it was a busy week... so let's take a quick look at some of how it went...
UP
// I got to sleep... without an alarm clock... wonderful!
DOWN
// I refused to let myself sleep too late though. I know myself. If I let myself sleep late, I stay up late & then by the time I get back to work, I'm not sleeping at all. If I didn't have a job, I would be one of those girls that stay up all night & reads & sleeps all morning long.
DOWN
// Monday... the first day of the vacation, I hurt my back. I mean HURT MY BACK. Worse then anything I have ever done. I leaned down to open up Harvey Dent's kennel & my back seized up. Like, I was hunched over & couldnt move. Made it to the phone & called Ricky crying & saying I needed to go to the ER. Yeah... that's how my vacay started. I ended up getting an ice pack, laid on it. Put on some Panaway Essential Oil & took some Ibuprofen & did nothing the rest of the day. There you go. Monday sucks even on vacation.
UP
// I got roses for our 19th anniversary. Who doesn't love the surprise of roses?
UP
// We got to eat where I wanted to for our anniverary - a little Italian restaurant that I love....
DOWN
// ... & the waiter, for some unknown reason, gave us half an order. WHAT? Who ordered half an order? Thanks for saving me the calories dude, but I eat here once a year & wanted the full deal.
UP
// Savings all those calories let us go to the Homemade Pie Kitchen.... apple pie with a carmel topping? OH yeah - that's celebrating our anniversary.
UP
// Outlet shopping... enough said.
UP
// Outlet shopping on a Wednesday afternoon where the only people there are 4 people in the whole place.
UP
// Finding Beauty & the Beast stuff...even after all this time.
UP
// Lunch at my second place I almost chose for our anniversary dinner. I ended up getting both my places I wanted to eat.
DOWN
// I didn't pick a good thing to eat at PF Changs. It was so bland. Like my own cooking was better then this.
UP
// My dogs were so happy we were home. I mean, Harvey Dent slept in the bed with us every night - after Monday. I refused to open the kennel anymore.
UP
// Daytime TV... I love daytime TV. I always say Kelly Ripa would be my best friend if I knew her in real life. I'm convinced of it.
UP
// Got my sewing machine threaded... yipee!! ... now what?
UP
// Got lots of knitting done.. . I mean LOTS of knitting. If you follow me on Instagram, you've been overloaded with knitting pics
DOWN
// Ricky & I watched the stupidest movie EVER.. something with Chris Evans, which I would think would be good. It was ridiculous & a waste of my time. Snow Piercer or something with snow... & they all live on a train. The whole world, on a train. Stupid. Just don't.
DOWN
// The hubs refused to go see Gone Girl. I refused to go see the Denzel Washington film. That's why we ended up with the stupid move I just mentioned.
How Ricky & I both reacted to each other's movie choices
UP
// Finished my last engagement session AND finished my last wedding. One more session & I'm done for the year.
UP
// Gas is below $3.00 - I feel like I won the lottery
DOWN
// We had to take Ricky to the Urgent Care because of a mark on his back with red streaks going around his side up to chest... ends up its ANOTHER spider bite. That's infected his lymph nodes. I told him his obsession with becoming Spiderman is taking it to extremes now.
DOWN
// It's dark at 5:30 now... NOO!!!!!!!
DOWN
// I got so sick on Sunday. I mean SICK... Start off the vacay with an injury, ended it with sickness. There's that.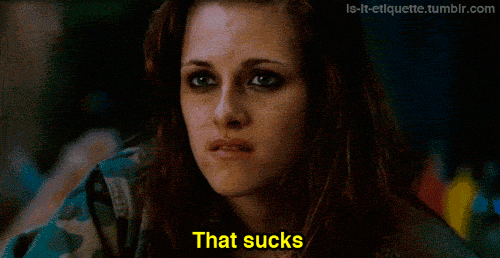 Lots more happened, but I am trying to make this post not a mile long.
I need to get back to work & back to routine... & just hoping I feel better.
I can't wait to visit around & see what's going on with you all...
Sooo....What did I miss last week?